Welcome to my new blog!!! I have been blogging for more than a year. My other blog that you can see
here
is a place to showcase the work that I am doing with my academically talented students. I decided to take the plunge and join all of you fabulous teachers who are sharing WONDERFUL ideas!
In order to properly introduce myself, I decided to join Cara Carroll's Linky Party over at
The First Grade Parade
!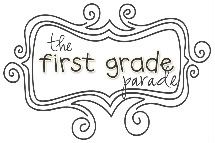 I am in my 15th year teaching at the school where I student taught. Oh my, feeling really old right now! I student taught in a 1st grade classroom. I was hired the following school year to teach 6th grade. Everyone, I was TERRIFIED! I stayed in 6th grade for 3 years and wasn't sure I wanted to leave. Then I had the opportunity to move to 2nd grade. I took it and loved it! I taught 2nd grade for 4 years. Then we had our first child. I then took the chance to teach Title I Reading/Math part-time. It was such a great opportunity for our family! I was working 4 hours a day and it.was.marvelous! We have added two more children to our family and I have gradually worked back to teaching full-time. My work with Title I students takes up 60% of my week and the remaining 40% is spent with academically talented students. I work with students in grades K-6. Talk about variety! I love my school, students, and parents!
I am currently 9 hours from finishing my master's degree in Reading at Pittsburg State University. Go Gorillas! I 'm taking 6 hours this semester and will finish up with 3 hours in the fall of 2011. It's been a long, slow process that has really given my teaching a whole new energy. Even though the coursework is becoming a little redundant, I have done A LOT of professional reading, lesson planning, and reflecting.

This is me with my family

Here are our three lovely children . . . ages 8, 6, and 4
On with the Q & A!
Q: What would you be doing if you weren't a teacher?
I would love to own a teacher supply store. The only supply store in my small town recently closed - it didn't have much to offer. The university in my town is known for it's education program and I think it could be very successful. A girl can dream right?
Q: What are your hobbies?
Spending time with my family, teaching, and surfing the web.
Q: When you were little, what did you want to be when you grew up?
I always wanted to be a teacher. I spent a brief time in high school considering becoming a pharmacist - I worked in a pharmacy.
Q: What are your guilty pleasures?
Dr. Pepper, anything sweet, American Idol and Castle!
Q: What is your biggest fear?!
Dying before my children are grown.
Q: When you're on vacation, where do you like to go?
We like to go camping in Colorado and Disneyworld. My sister is getting married in Vegas in May and I've never been. Very excited!
Q: What's the best advice you've ever received?
Worrying is like a rocking chair . . . it's something to do but it gets you no where.
Q: What do you value most in others?
Kindness, loyalty, honesty, AND a good work ethic!
Q: If you could choose one of your personality traits to pass down to your kids, what would it be?
Maybe my sense of responsibility and ability to self-motivate.
Q: If you could have lunch with anyone in the world….living or dead…who would it be?
My grandmother passed away several years ago and I think of her every day. I would also choose my biological father. I was just getting to know him a few years before he passed away. The moral of the story = don't waste chances with loved ones.

One random thing about myself:
After trying for quite some time to become pregnant, we found out we were expecting our first child on 9/11. I took the phone call from my doctor's office in our school library. I began to cry and the librarian said, "Honey, did you know someone in the Twin Towers?" What a day of crazy emotions.
It was great to meet you! I hope you'll follow my blog and the resources and ideas I share will be just "The Pot o' Gold" you're looking for!